Hop, Skip, Jump (Into Puddles) – Spring Is On Its Way!
The first day of spring is coming up quick Winnipeg! Often times when we think spring, we think sunshine, puddles, spring cleaning and the imminent arrival of the best summer ever. So how do expand on those ideas making spring a season that will empower us?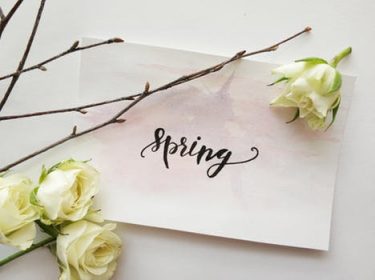 Spring cleaning can have different meanings to different people, so let's explore a couple of those meanings.
Literally cleaning… spring is a great time to dust off the winter from your houses and wardrobes. In spring it's a great time to take advantage of warmer temperatures and open up the windows and get some fresh air into the house. Especially after being mostly cooped up for the winter, getting that fresh air circulating in the house will freshen it up and get rid of the dust. But, fresh air is also great for your digestive system, improves your blood pressure and heart rate, cleans your lungs, strengthens your immune system, and overall helps to make you feel happier.
We get to fold up those wool sweaters and replace them with a lighter layer. Spring is a great time to take a look at your belongings and declutter. Getting rid of some of the clutter and the non-essential belongings (or even fixing some of the things you've been meaning to get to for months…) will help to reduce your stress, improves your focus, gives you an amazing sense of accomplishment, and helps to boost your mood. And what do you do with all of the things you're decluttering? You have a few options that will get you amazing results. You can sell them by placing ads on kijiji or Facebook and a little extra money is always a plus. You can trade them in for something totally different or a newer model and we all appreciate an upgrade. Or, you can donate them, there are always people that are in a situation who would appreciate and benefit from the things you don't have use for anymore, and this act of helping someone else out will do wonders for your heart.
Spring can also mean time for a clean-up of your health. It's a time where people start to think about that "beach body" and how to lose the "winter weight". It's a time where we are able to take a minute and think about where we want to be health wise over the next year. Losing weight and getting fit are both great goals to have that have amazing side effects to your health. Taking inventory of your health is important, and spring is a great time to do it! If there are any health concerns that you have this is a great time to think about them and how to take the steps to get to where you want to be health wise. Your health goals can be losing weight and getting fit, to getting rid of the low back or neck pain that's been bothering you all winter, to controlling your diabetes, to restoring your mental health, and so much more. Whatever your health goals are, there are ways to achieve them! We are passionate about helping you to achieve your goals and will guide you to the right resources and tools that will help you to get to your goals quickly and effectively.
Let's clean up this spring! Our homes, our wardrobes, our nutrition, our health… they are all important parts of our lives so let's give ourselves every opportunity to do things with excellence.
Happy Spring!
Kristine
Mention this blog from now until April 6, 2018 to receive a chiropractic evaluation for only $90. Your chiropractor will help you to address any health concerns that you have and give you the tools to enhance your health. Your evaluation will include a consultation with the doctor, specialized nerve scan, and x-rays (which will be taken if necessary and will be complimentary with the exam). Call the office to schedule your assessment today!
---
---