Events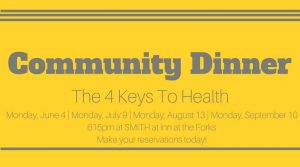 A wonderful evening of health, community and friendships! Join us at Smith Restaurant at the Inn at the Forks for a delicious meal where you'll have the chance to learn more about health, healing and your body's innate healing abilities. We'll unwrap the 4 keys to health in a comprehensive way that you can implement immediately! Make your reservations in the office today!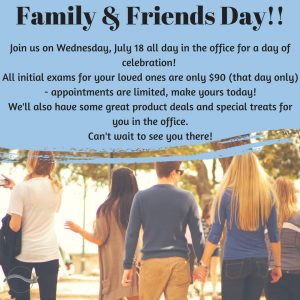 Monday, July 18 – Family and Friends Day – all day in the office
Our family and friends mean the world to us, this is why we host Family & Friends Day. Let's celebrate them and their health and well-being! All initial exams will be $90 for their whole family (this is a savings of over $200). Initial exams include a consultation with one of our doctors, exam, specialized nerve scan and x-rays if necessary. They will also be invited to a follow up appointment to review their exam findings. This is your opportunity to share your healing journey in our office with the people you care about!
And… In addition to the amazing offer on exams for your loved ones, we'll have some great product deals, special promos, guest and so much more in the office all day long to celebrate you!
Did you know? The fantastic doctors at Focus Chiropractic can be a part of your workplace wellness team! We do amazing lunch and learns on topics like: workplace ergonomics, nutrition, exercise, goal setting, bringing your business to the next level, and so much more! All programs are customizable to what your workplace is looking for. Contact the office to schedule your lunch and learn today!